College Guidance Strategies
For Performing Arts University Admission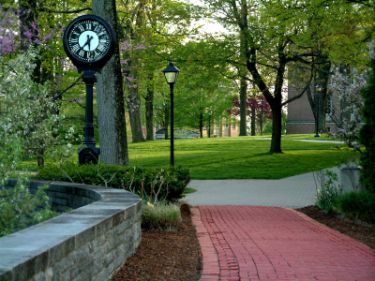 About six years ago, I started the college guidance process,with my teenager, to help him gain admission into Performing Arts Colleges. It was wild...to say the least. If you are a parent or counselor of a teen who is considering going to college and majoring in music, voice, dance, or acting, you probably understand why I have decided to write on this topic.


If you don't understand yet, you will...

College guidance strategy starts with the teenager deciding what colleges he or she are interested in attending. For a good introduction to this process, you can check out this performing arts college search page.

You'll find a host of good questions for your teen to answer about what they are looking for in a college for performing arts or performing arts university.

Now, I'm going to give you the most important idea that you can take away from reading this page. If you remember nothing else, remember this...Have your son or daughter start looking at schools early or as early as possible in their high school career.

The reason this is so important is because...when it comes to performing arts college admission, you need to know what you are working towards.

Being prepared not only academically but also by training in their particular field of choice will make a student more competitive when it comes to college admissions.

Performing Arts Universities each have their own process of admission which not only includes their academic requirements but additionally they require that the student go through the audition process. Read the requirements carefully, be sure of what each college is asking the student to do. If it is unclear, the student should contact the school for verification. Know what the audition process involves.

A student should begin to prepare for those auditions as soon as possible...

They should train for success. They should train to increase the possibility of landing a Performing Arts Scholarship. They should train to increase their confidence when auditioning.

You can read more about auditioning on another part of this Website. For now, the training is the thing.

Beyond that, proceed in an organized way...

College Guidance At Application Time


Once the time comes to apply and go on those auditions, keep in mind that there will be a lot of coordination to do.

From experience I can tell you, work on those college applications early. Even if it's not time to send them...fill them out.

No one wants to get caught in the crunch of filling in a college application while trying to polish off a musical piece, song, dance or monologue.

When first scheduling auditions...Gather all the available dates from each school and coordinate the auditions on a calendar...so that there are no conflicts and...that there is time available for each audition.

If you proceed in this way, things should go smoothly. There will be plenty of time to make travel arrangements, if necessary, and they'll be no missed auditions to worry about.

One last word of advice...keep a journal of the auditions attended

What was performed by the student
What if any constructive criticism was received...was the student asked to do something in a different way?
Record the names of the people for whom the student auditioned
All of these things will be helpful in guiding the student as they go through the process of auditioning for a Performing Arts University or any Performing Arts Program.


---
Free Virtual College Fair - 200 + Colleges Participate
Sample Audition Resume

Free Monologue Tips

From College Guidance to College Search Info

College Guidance to Home Page