They Don't Call Us Musical Theater Kids For Nothing!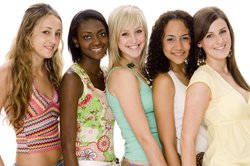 Are you one of those musical theater kids who lives to perform?

Do you know what type of training is needed for a kid with your dreams?

Do you know what it takes to become a "triple threat"?
A "Triple Threat" is a person who is an Actor, Singer, and Dancer
Do you need auditioning tips, headshot advice, help with an audition resume? Do you need to know what Broadway Roles and Songs are available to kids? Have you been told that you need to learn Sight Singing but you don't know where to start? Do you need to prepare a 16-bar Song for an audition? Are you thinking about attending a Performing Arts College? Would you like to do some Community Service and use your talent at the same time by volunteering?
I have a kid who loves to perform. Yet before his talent was discovered by a teacher, I had no idea what the above questions even meant.
So began my years of investigation, and my involvement with my son's training as a musical theater kid.
It was initially hard to find reliable and easy to follow information on getting a kid started in musical theater. I began a search which has lasted for years and is still on-going.
The knowledge I now have, from networking with other "stage moms", speaking with professional performers and teachers, and from personal experience is on this website.
You, too, can benefit from my experience as I am happy to pass it along.
If you are a musical theater kid who is passionate about working in professional theater and dream every day about being a famous child actor, you will benefit from this website and following the training advice.
Star or not, each kids life becomes extremely enriched by their musical theater experiences. You master so many life skills through your training and development...skills you will use your entire lifetime.
There is no describing the feeling of that my husband and I experience watching our son perform. We see his satisfaction and personal excitement knowing that he is bringing enjoyment to others through his hard work and talent. We can't help but feel proud of him.
Whether you are a Musical Theater Kid just starting out or someone who has done a lot of Musical Theater, I hope that you will experience this same level of excitement. Use this site as a reference, I believe there is something here for all levels of experience...enjoy the journey!
Do You Want To Be Kept Up to Date on All The Musical Theater Kids Industry News? Sign Up for
The Rave Review
my monthly newsletter featuring exclusive industry articles and tips, plus up to date information about this Website. Don't worry, you can opt out at any time...I hate spam, too.




We're A Small Theater Community...Please Share This Site With A Friend.




If you would like to link to our website, you may do this by simply copying the text below and pasting it on your site. We appreciate any visitors you send out way, in advance. Thank you.

Do you want to earn money back everytime you make a purchase online through Ebay, Avon, Newegg and a bunch of other online stores? Check out this link
Get cash back on all your eBay purchases!
I'm not kidding it works!
VROOSH! Metacrawler