Stage Makeup Technique & Application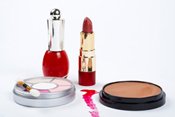 Do you think that you need to know Stage Makeup Technique?
If you said yes, you're right because the need to know how to apply makeup to be worn on stage, under intense stage lighting, comes up more often than people realize.
"Do people other than actors need to know Theatre Makeup Tips and Application?"
Public speakers, Politicians, Professional Actors, those involved in College, School, and Community Theater Productions, Church Pageants, Dance Recitals and Competitions,Voice Recitals, and even those going to a Halloween Party many times have the need to use stage makeup.
Fortunately, with some focus, practice and the right tools, the application of Stage Makeup can be used by all who need to create a little illusion. You'll have fun in the process, too. Don't be surprised if you amaze yourself!



The basic materials needed are as follows:
1) Makeup Mirror - with a light if possible
2) Makeup Sponges & Makeup Brushes
3) Foundation - cake type is the easiest to apply and comes in the most shades
4) Translucent Powder - which is used to set the makeup
5) Eyeshadow - a lighter and darker shade (for blending if needed)
6) Blush or Rouge
7) Lip Liner
8) Lipstick
9) Eyeliner - pencil or liquid
10) Mascara
Have on hand, some skin toner (which is alcohol free), some makeup remover and some baby wipes(which work great for removing the stage makeup after the show... before using the makeup remover), and some moisturizer (to use after you do your show).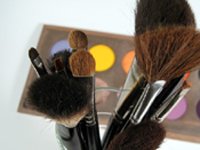 Tips for Applying Stage Makeup
The Process


How do I begin? What is the most important thing I need to know about applying Stage Makeup?

Whether you are applying stage makeup for a role in a show, public speaking, a recital or competition it is important to apply your makeup in such a way that you appear to be your "natural" self.
Dramatic character makeup and Halloween character makeup are the exception, not the rule. You might say that applying no makeup will allow you to appear your "natural" self and it would be tough to argue with that. Keep in mind, however, that in most of the situations I described above, you are going to be "under the lights" and this can make you appear dull and washed out if you do nothing to enhance your "natural" skin tone.
To avoid that from happening to you, learn to apply Stage makeup properly by following some simple steps:


Make sure your face is clean and that you have applied an alcohol free toner. I say alcohol free because Stage Makeup can be very drying to the skin, like alcohol. You do not need to make the situation worse.
Start by putting on your Foundation. You should choose a color just a shade darker than your natural skin color. To apply, start at your forehead and blend up into your hairline. Next, apply to your entire face. Don't neglect your neck, ears, earlobes and back of neck if they are not covered up my your attire on stage. You do not want to give yourself a mask-like appearance by covering only your face. Please don't worry if the makeup looks dark while you are working with the foundation. The purpose is to not be washed out by the stage lighting.
Blush or Rouge comes next. Smile...and apply the blush from the middle of your smiling cheeks back towards your ears. Color choice for woman should be a rosy color that compliments your skin tone. Men, choose a color that is paler. Make sure to blend the rouge in well.
Next accent your eyes. Apply the eyeshadow first. Use a light neutral shade to highlight the brow bone. Use a little darker neutral shade to cover your eyelid. Blend the two shades where they meet. You can now use the eyeliner to line the top of your eyelid along the lash line. You can use brown or black, however, black will give a more dramatic look. The line should be even, but not too thick unless you are going for that dramatic look e.g. Cleopatra. Last add your mascara. Again, brown or black depending on the look you are going for. Men, you can use eye makeup but go lightly. You only want to enhance your features for the lights and the viewing from afar. You're not trying to look like you are made up.
Lip liner is next applied in your Stage Makeup regimen. Choose a clear color lip liner(now available) or one that is the same shade as the lipstick you will be using. This is an important step as the lip liner keeps the lipstick from bleeding on to your face should you become heated and sweaty. If will help you maintain well defined lips throughout your performance. Once the liner is applied (on the outer edge of the lips...but not outside), you can fill in with your choice of lip color. It is a great idea to check with your Director or Costumer as to what color you should be wearing. Men can go for a lip color that is only a little bit darker than the natural color of their lips.
To set the Stage Makeup, apply your translucent powder by using a brush that you have dipped into a container of the powder. Remove any excess powder by tamping on a paper towel before applying to your face and neck. When you set your makeup in this way, it is less likely to get ruined if you sweat during your performance
Finally, step back from the mirror a bit and look at yourself. You should have a slightly exaggerated look to combat the bright stage lighting. You should not look ghoulish. Keep in mind that your public will be seeing you at different distances and from different angles. The people in the front of the audience will see you just fine, but, you want to appear natural to them. The people who see you from a distance must be able to see your expressions and the Stage Makeup will help you to accomplish this.
For Videos Demonstrating Technique Click Here
Practice Your Stage Makeup Technique
It is a good idea to start learning this process at home.
In this way, you can take your time and experiment before your performance takes place. Once you find what is going to work for you, make some notes for yourself. You can put them up in your Dressing Room to keep you on track during the process. A few kids that I know, take index cards and write themselves notes about their makeup application which they keep in their Theater Makeup Kit. They find this to be particularly helpful when they are excited to be preparing for a show. The cards serve as helpful reminders so that nothing in the process is overlooked.
If you are in a show or recital you can use the Dress Rehearsal process to practice and experiment with various colors, styles of application and technique. You will also have a clearer idea of how the stage lighting will effect your choice of colors. When in doubt, ask other people involved in your production to give you an honest opinion. Sometimes an actor can be using a color that is washing them out and not be able to see it. Ask others and take the time to learn how to do it right before you actually go to show.
This will save you time, worry and aggravation during the run of the play.
---
CLICK HERE TO ENTER STAGE MAKEUP STORE


Stage Blocking Notation
Stage Directions Diagram
Costume Information Is Here
Musical-Theater-Kids.com Home Page