All acting experience is valuable for the beginning child actor. Kids acting in professional theater know this best of all.
---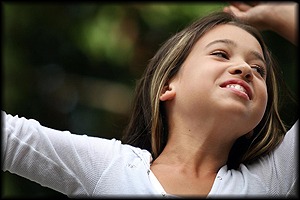 Every performer, kid or adult, needs to get some practical experience.

Remember...when first starting out, no part is too small. The point is to get on the stage, and be part of many productions.

Even a small part in a play or musical gives you a wealth of kids acting experience. You learn by doing, which in this case, is the best way to learn.

Think about it, you learn the vocabulary of the theater, the words, the music, the teamwork (I could go on and on)... in a small part.

What's great about it, is that you don't have all the pressure of being the lead and you get a wonderful education in the process. So a small part, especially when you are just starting out, is just fine.
---
---
Look Locally For Beginning Acting Opportunities




Performing in theater is one of the best ways to learn. Kids can look for audition notices by checking out the websites of their local community theatres.

You can also find audition notices in your local newspaper. Another idea is to check the websites or call (yes, even the box office ) of performance venues in your area to find out if they are holding auditions.

Kids should not be afraid to check professional venues even if they have little or no experience acting. If there is a part for a child in a show and you think you might be the right type for that part, go ahead and audition. You can learn about various shows by simply looking them up on the internet. If are not sure, don't hesitate to call and ask if there are any parts for kids and what exactly they are looking for.

There are many great resource books available about Musical Theater. Look them up on the internet or at your local library.

Kids usually do not even have to be members of the actors union to audition, in union theaters. If given the part, they may be asked to join, however.

Sometimes you might find opportunities at your local high school(ours uses younger kids all the time), or at a local college.

The bottom line is if you want to be a Musical Theater Kid, you need to get out there and audition. Just keep building your resume by gaining more and more experience through acting.



---
Acting Classes Will Grow Your Experience
Kids acting classes are a great way to improve your skills. They help your natural talent to grow.
Look for local classes in the newspaper and local magazines. In our area, we have several great kids publications that are full of class offerings. Call the schools, go observe a class, and talk to the teacher afterward. You need to find a place that you will be comfortable attending and will challenge you.
Many performing arts schools put on musicals and there are also kids theater groups out there. You just need to do some digging around until you find one that interests you.
You can also ask other kids whom you know are involved in Musical Theater about classes they might be attending. Word of mouth is sometimes the best recommendation.

---
Learn By Attending Theater
Watching other people perform, is a great way to increase your own kids acting skills. You will be surprised what you can pick up. This has always been one of my son's favorite things to do. He learns from his fellow actors each time he attends a show. Sometimes you learn what to do because it works and sometimes you learn what not to do because it doesn't work. At any rate, you still come away with knowledge that you would not have had unless you saw the show.
Attending as much theater and Musical Theater as possible will make you familiar with a wide range of dramatic material. This will help improve your skills when you do through the audition process and later on when you get the part.
Another thing you can accomplish by going to live theater is that you can meet the various cast members. Most of the actors will be friendly, especially in community theatre settings. You can speak with them about your interest in acting and ask for suggestions about classes and about where to audition.

---
Do not underestimate the value of networking in the theater business. It will be a tremendous resource for you, if and when you decide to go professional. Meet and work with as many people as possible. You can learn a great deal from people involved in this craft both the performers and those working in the technical end (but that discussion is a subject for later).
---
ADD TO YOUR SOCIAL BOOKMARKS:

Blink

Del.icio.us

Digg

Furl

Google

Simpy

Spurl

Technorati

Y! MyWeb
To Audition Tips from Kids Acting

Audition Resume

Singing

Dancing

Monologue

Kids Acting Tips to Musical-Theater-Kids.com Home Page