* Broadway Rising Stars *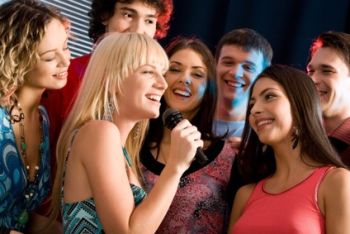 An annual event "Broadway Rising Stars" takes place at The Town Hall in Manhattan, each July. Located at 123 West 43rd Street, this is a wonderful venue for the likes of these soon to be Broadway performers. What a great experience for these just graduated theater students and... from experience I can tell you , what a treat for the audience, as well.
The creator/writer/host of this exciting event is none other than Scott Siegel who, together with his wife Barbara, has written over forty books about theater and film. "Barbara and Scott are the authors of 46 books, including The Encyclopedia of Hollywood and American Film Comedy. They are columnists for Back Stage and Cabaret Hotline Online, and they report on movies, theater, and cabaret on more than 100 radio stations across the U.S..." Scott is a member of the Outer Critics Circle and The Broadcast Film Critics Association.


This year's (2010) group of Broadway Rising Stars hail from not only the United States but also from Canada, Korea and Russia. They attended many prestigious theater schools including; New York University Steinhardt School (Performing Arts Professions), University of Cincinnati College Conservatory of Music, New York University Tisch School of The Arts, The New School for Drama, Marymount Manhattan College, The Juilliard School and, The American Musical and Dramatic Academy.

Each student was selected by a nominating committee of judges either by audition or through viewing of a showcase done by their respective schools.
The show's format included a solo performance by each member of the cast as well as many well choreographed ( Vibecka Dahle ), and well directed ( Emily Skinner & Scott Coulter )group numbers. Musical direction was by John Fischer.
Here are the names of the 2010 Broadway Rising Stars to keep your eye on:Jacob Smith, James Erickson, Frank Francisco, Paris Nix, Matt Steele, Jeff Raab, Brooke Schlosser, Emily Iaquinta, Emmy Raver-Lampman, Meredith Lustig, Jennie Harney, Danielle Columbo, Laura Darrell, Caroly Amaradio, Stephen Lucas, Erin Gorey, Brad Giovanine, PJ Verica, Rebecca LaChance, Jennie McGuiness, Jessica Wagner, Marie Thomas.


These kids sang their hearts out for a capacity crowd in July 2010. The energy in the theater was so high that the audience could do nothing but sit and enjoy the ride. I wanted to pull in some of that energy for myself but settled for enjoying the magnificent entertainment of the performers...so talented and full of hope for their future.

I highly recommend seeing this annual show. Get your tickets early, however, as this show was sold out and as word is getting out, has become increasing more popular. See you at the show!


From Broadway Rising Stars to Home Page

How To Choose An Acting School